Despotovac, March 25, 2010.
Meeting on the theme "Nature and Development"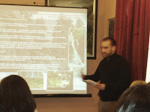 At a time when rapid development in the context of transition generates many factors that negatively impact on protected natural areas, especially mountainous, the need for a clearer definition of attitude of the public sector and finding of the modalities by which to reconcile existing conflicts, has been recognized .

Urged by such need, the Republic Agency for Spatial Planning in cooperation with the Ministry of the Environment and Spatial Planning and the Institute for Nature Protection of Serbia, organized the expert meeting on "Protection of nature and development." Representatives of the public sector - public companies, sectoral ministries, national parks and the Institutes, participated in the meeting which was held on March 25th 2010 in National Library in Despotovac.

After the opening statement of Professor Borislav Stojkov, who clearly defined existing problems of protection and development of high mountains in Serbia, and pointed out the possible dilemma in their solution, presentations at the conference were organized in two thematic areas. In the first part, current domestic problems, and experiences and relevant examples from abroad, were presented, in the field of nature protection, development, sustainable tourism and management of natural resources, especially mountain areas. Spatial plans of special purpose protected areas in Serbia were presented in the second part of the meeting.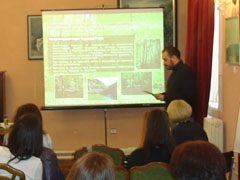 The Urban and Spatial Planning Institute of Vojvodina, at the invitation of the Republic Agency for Spatial Planning, has been actively involved with the presentation of the Spatial plan of area of special-purpose Fruška gora, up to the year 2022.

With the summarised presentation of this areas value and potential, current conflicts between economic development (road infrastructure, open cast mining, uncontrolable urban propagation) on one hand and protection of unique landscapes and ecosystems on the other, were presented.

One of the conclusions of meeting was the view that the public interest in sustainable development and protection of natural areas can be achieved through integrated planning, based on the inclusion of all relevant participients, particularly local residents, in process of planning and decision making.

---